Iman Naseri, MD, FACS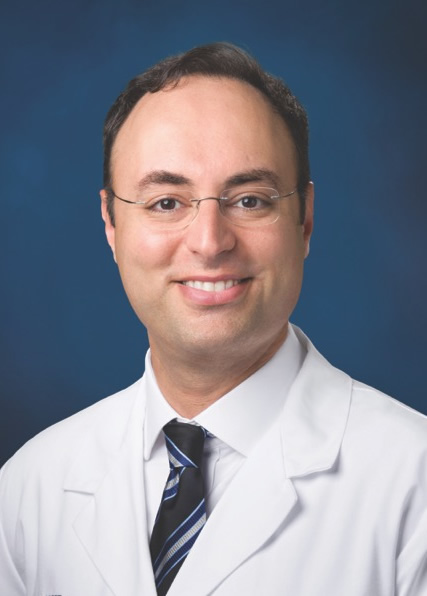 Education
Education
Postgraduate Training and Fellowship Appointments
Board Certification
Faculty Appointments
Current Hospital Appointments
Membership in Professional and Scientific Societies
Editorial Positions
Administrative and Academic Service
Community Service
Awards and Honors
Awards and Honors
Resident Leadership Grant, American Academy of Otolaryngology Head & Neck Surgery, 2007/08
Resident Research Award, Georgia Society of Otolaryngology, 2007
Memorial Sloan Cancer Center summer research scholar program, 2000
Alpha Lambda Delta undergraduate Honors Society, 1993-1997
Research Fellowship from the University of South Carolina Honors College, 1995-1996
Howard Hughes Research scholarship recipient, 1995-1996
Shakespeare Molecular Research scholarship recipient, 1994-1995
Invited Guest Lecturer
17th Annual Primary Care & Cardiovascular Symposium, Ponte Vedra, FL, May 2016
6th Middle Eastern Congress on Rhinology & Facial Plastic Surgery, Tehran, Iran, April, 2016
Office-Based Otolaryngology Course, Ponte Vedra, FL, March 2016
Office-Based Otolaryngology Course, San Juan, Puerto Rico, Feb 2015
North American Skull Base Society Annual Meeting, 2011
Publications
Publications
Arnaoutakis D, Naseri I. Sinonasal Phosphaturic Mesenchymal Tumor: A Rare and Misinterpreted Entity. JNLS Report. Accepted for press. ID 15-Apr-0031-R.
Black K, Naseri I, Aldana P, Goldstein J, Josephson G. Juvenile Ossifying Fibroma: Successful Endoscopic Gross Total Resection of a Rare Sinonasal Tumor in an Adolescent Male. Annals of Otol & Rhin. March 26, 2015.
Naseri I. Surgery for Obstructive Sleep Apnea. Northeast Florida Medicine. Vol 64, No 4 2013.
Aldana PR, Naseri I, La Corte E. The naso-axial line: a new method of accurately predicting the inferior limit of the endoscopic endonasal approach to the craniovertebral junction. Neurosurgery. 2012 Dec;71 Suppl Operative:ons308-14.
Duggal P, Naseri I, Sobol SE. The increased risk of community-acquired methicillin-resistant Staphylococcus aureus neck abscesses in young children. Laryngoscope 2011;121:51-5.
Naseri I. Laryngopharyngeal Reflux: Overview and Clinical Implications. Northeast Florida Medicine. 2011;62(1):35-38.
Cohen AL, Naseri I, Pinell X, Sobol SE, Gorwitz R. Treatment of Methicillin-Resistant Staphylococcus aureus Pediatric Head and Neck Infections: Results of a National Survey of Otolaryngologists in the United States. Journal of Otolaryngology-Head & Neck Surgery, Vol 39, 2009:
Naseri I, Jerris RC, Sobol SE. Nationwide trends in pediatric Staphylococcus aureus head and neck infections. Arch Otolaryngol Head Neck Surg 2009;135:14-6.
Naseri I, Wise S, Klein A. A Rare Cause of Dysphonia. Ear Nose Throat J. 2008 Aug;87(8):E09.
Naseri, I., Durden, F., Sobol, SE. Pediatric Airway Consultation Survey in a Tertiary Care Children's Hospital: An Inter-observer Analysis. Ear Nose Throat J. 2009 Dec;88(12):1266-8.
DelGaudio J, Naseri I, Wise JC. Proximal pharyngeal reflux correlates with increasing severity of lingual tonsil hypertrophy. Otolaryngol Head Neck Surg. 2008 Apr;138(4):473-8.
Rogers, GA, Naseri, I, Sobol, SE. Methicillin-Resistant Staphylococcus aureus Orbital Abscess in a Neonate. International Journal of Pediatric Otorhinolaryngology Extra (2007) 2, 99-101.
Berg E., Naseri I., Sobol S.E. The Role of Airway Fluoroscopy in the Evaluation of Children with Stridor. Arch Otolaryngol Head Neck Surg. 2008 Apr;134(4):415-8.
Naseri, I, Saini, R, Welsh, CT. Ganglioglioma. J Applied Radiology. March 2004: Vol 33,3.
JR Alvarado-Bremer, I Naseri, B Ely. Orthodox and Unorthodox Phylogenetic Relationships Among Tunas, Journal of Fish Biology, 1997. 50, 540-554.
Ely B, Stoner DS, Bremer AJ, Dean JM, Addis P, Cau A, Thelen EJ, Jones WJ, Black DE, Smith L, Scott K, Naseri I, Quattro JM. Analyses of nuclear ldhA gene and mtDNA control region sequences of Atlantic northern bluefin tuna populations. Mar Biotechnol (NY). 2002 Dec; 4(6):583-8.
B. Ely, D. S. Stoner, J. M. Dean, J. R. Alvarado Bremer, S. Chow, Sachiko Tsuji, Tomoyuki Ito, Koji Uosaki, P. Addis, A. Cau, E. J. Thelen, W. J. Jones, D. E. Black, L. Smith, K. Scott, I. Naseri and J. M. Quattro. Genetic Analysis of Atlantic Northern Bluefin Tuna Captured in the Northwest Atlantic Ocean and the Mediterranean Sea. Col Vol Sci Pap. ICCAT, 52 (3): 1145-1149 (2001).
Alvarado-Bremer, J. R., I. Naseri, and B. Ely. 1999. A provisional study of Atlantic northern bluefin tuna populations. SCRS/98/78. International Commission for the Conservation of Atlantic Tunas, GFCM/ICCAT. Genoa, Italy. Coll Vol Sci Pap, 49(1); 127-129.
Textbook Chapters
Janjua A, Naseri I, Witterick I, Vescan A. Otolaryngology Head and Neck Surgery Approaches. In: Kassam A, Gardner, PA, ed. Endoscopic Approaches to the Skull Base: Karger AG; 2012:1-14.
Alt JA, Arnaoutakis D, Naseri I. Skull Base Neoplasms. Encyclopedia of Otolaryngology, Head and Neck Surgery. Kountakis SE, editor. Springer. First Ed. For 2012.
Fernandes RP, Petrisor D, Naseri I. Craniofacial Resection. Encyclopedia of Otolaryngology, Head and Neck Surgery. Kountakis SE, editor. Springer. First Ed. For 2012.
Naseri I. Ludwig's Angina. OTO Crisis: A Guide for the On-Call Otolaryngologist. Zuckerman JD, Rogers, G.A., editor First ed: Lulu.com; 2010. p. 16-18.
Naseri I. Tracheostomy Bleeding. OTO Crisis: A Guide for the On-Call Otolaryngologist. Zuckerman JD, Rogers, G.A., editor First ed: Lulu.com; 2010. p. 44-46.
Naseri I, Sobol S. Regional and Intracranial Complications of Otitis Media. Pediatric Otolaryngology, The Requisites in Pediatrics. Wetmore RF (Eds.). Elsevier/Mosby, Page: 105-117, 2007.
Naseri I, DelGaudio JM. Predictors of Failure of Primary Surgery. Revision Sinus Surgery. Kountakis, S, Jacobs, J, Gosepath, J, editor. New York: Springer; 2008. p.19-25.
Board-Certified Sinus Specialist in Jacksonville, FL
Dr. Naseri is board-certified in Otolaryngology-Head and Neck Surgery and the co-director of the North Florida Sinus Center®, based in Jacksonville, Florida. He completed his surgical training in the department of otolaryngology-head & neck surgery at Emory University. He then completed a fellowship at the University of Toronto specializing in Rhinology & Skull Base Surgery, with a focus on open and minimally invasive approaches in the treatment of benign & malignant tumors involving nose/sinuses and the anterior skull base.
He served as full-time faculty at the University of Florida College of Medicine – Jacksonville as an assistant professor with the division of Otolaryngology for five years, and now functions as an adjunct faculty with the University of Florida primarily for teaching, research and surgical collaborations with the department of neurosurgery.
Clinical Expertise
Dr. Naseri's clinical interests mainly focus on advanced sinus and nasal surgery (often done by a camera and instruments via the nostrils) for removing benign and malignant tumors. These are tumors that often transgress the usual confines of the sinuses and extend into the surrounding adjacent spaces, such as the region of the brain, eyes and may even spread into the lymph nodes in case of some malignancies. Treatment of such conditions involves close collaboration with other subspecialties, particularly with neurosurgeons. Other specialties include radiation oncology, medical oncology, neurovascular surgery, pathology, radiology, and others. Dr. Naseri currently collaborates with neurosurgeons at 4 major hospitals in the region to offer advanced options for surgery in the management of such sinus, nasal, eye, and other tumors in certain parts of the skull even those originating in the brain. He has performed hundreds of surgeries in collaboration with his neurosurgery colleagues, a service that often gets patient referrals from other subspecialty colleagues in ENT and neurosurgery from the greater North Florida region and beyond.
Research
His research projects are ongoing, spanning the following topics: The use and efficacy of Trans-oral Robotic Surgery (TORS) in the treatment of obstructive sleep apnea; The feasibility and role of robotic technologies in anterior skull base surgery; Techniques and outcomes of tracheostomy procedures in a tertiary care hospital environment; Technical considerations, indications and outcomes of endoscopic orbital decompression surgery. His interests in instrument design, engineering, and surgical application has allowed him to offer the latest in cutting-edge technology to allow a tailored surgery that is more complete, efficient and safer.
Dr. Naseri's Commitment to You
Dr. Naseri has a lifelong commitment to providing and maintaining excellence in his clinical & surgical practice. To do so, he offers care that incorporates the latest in evidence-based research, clinical and surgical concepts, and techniques, along with using state-of-the-art equipment in diagnosing and treating his patients. 'Each patient must be treated with compassion and adherence to the highest moral and ethical principles. This requires lifelong commitment to learn and educate oneself in an ever-expanding field of knowledge and information.'