Dr. Iman Naseri's Patient Testimonials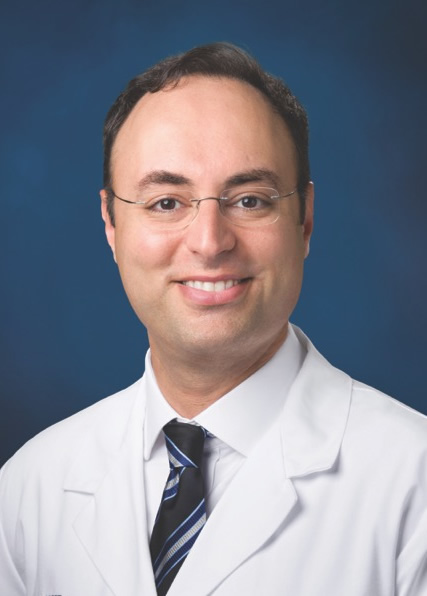 Education
Education
M.D. Medical University of South Carolina, Charleston, SC
B.S. University of South Carolina Honors College, Columbia, SC
Postgraduate Training and Fellowship Appointments
Fellowship, Rhinology/Anterior Skull Base Surgery, University of Toronto School of Medicine, Canada
Residency in Otolaryngology-Head & Neck Surgery, Emory University School of Medicine
Atlanta, GA
Internship in Surgery, Emory University School of Medicine, Department of Surgery
Atlanta, GA
Board Certification
Diplomate, American Board of Otolaryngology
Faculty Appointments
Clinical Adjunct Professor, University of Florida College of Medicine – Jacksonville
Current Hospital Appointments
Baptist Health Jacksonville, FL
UF Health – Shands Hospital, Jacksonville, FL
Wolfson's Children's Hospital, Jacksonville, FL
Memorial Hospital, Jacksonville, FL
Membership in Professional and Scientific Societies
American Academy of Otolaryngology – Head and Neck Surgery, Fellow
American College of Surgeons, Fellow
American Rhinologic Society, Fellow
American Board of Otolaryngology, Diplomate
North American Skull Base Society, Member
American Academy of Otolaryngic Allergy, Associate Member
American Medical Association, Member
Duval County Medical Society, Member
Florida Society of Otolaryngology
Editorial Positions
Member, Editorial Board, Journal of Otology & Rhinology
Reviewer, American Journal of Rhinology and Allergy
Administrative and Academic Service
Originator & Director, University of Florida (UF)-Shands Sinus & Allergy Center, 2009-2014
Originator & Co-director, UF Health-Shands Skull Base Program, 2011-2014
Originator & Co-director, UF Health-Shands Sleep & Snoring Center, 2012-2014
Florida Society of Otolaryngology, State Legislative Representative, 2010-present
Board of Governors, American Academy of Otolaryngology Head & Neck Surgery, 2009-present
Public Relations Representative, Greater Jacksonville ENT Society, 2010-present
Member, Robotics Committee, UF Health-Shands, 2012-2014
Member, Laser Safety Committee, UF Health-Shands, 2009-2014
Community Service
Organized and directed free cancer screening clinic for Jacksonville community during Oral, Head and Neck Cancer Awareness Week (OHANCAW), UF Health-Shands, 2010- 2014
Established the Florida chapter of the Head and Neck Cancer Alliance (HNCA), 2012
Member, Board of Directors, The Head And Neck Cancer Alliance (HNCA), 2010-present
(www.headandneck.org)
Established the Georgia chapter of the Yul Brynner Head & Neck Cancer Foundation (YBF-GA), now known nationally as the Head And Neck Cancer Alliance, (HNCA). Organized and participated in multiple free head and neck cancer screenings clinics at local schools, churches and NASCAR racing events as a part of an outreach program, 2005-2007
Red Cross relief mission trip to Macedonia as part of humanitarian aid to Albania, Macedonia, and Montenegro for the Kosovo refugees, 1998
Awards and Honors
Awards and Honors
Resident Leadership Grant, American Academy of Otolaryngology Head & Neck Surgery, 2007/08
Resident Research Award, Georgia Society of Otolaryngology, 2007
Memorial Sloan Cancer Center summer research scholar program, 2000
Alpha Lambda Delta undergraduate Honors Society, 1993-1997
Research Fellowship from the University of South Carolina Honors College, 1995-1996
Howard Hughes Research scholarship recipient, 1995-1996
Shakespeare Molecular Research scholarship recipient, 1994-1995
Invited Guest Lecturer
17th Annual Primary Care & Cardiovascular Symposium, Ponte Vedra, FL, May 2016
6th Middle Eastern Congress on Rhinology & Facial Plastic Surgery, Tehran, Iran, April, 2016
Office-Based Otolaryngology Course, Ponte Vedra, FL, March 2016
Office-Based Otolaryngology Course, San Juan, Puerto Rico, Feb 2015
North American Skull Base Society Annual Meeting, 2011
Publications
Publications
Arnaoutakis D, Naseri I. Sinonasal Phosphaturic Mesenchymal Tumor: A Rare and Misinterpreted Entity. JNLS Report. Accepted for press. ID 15-Apr-0031-R.
Black K, Naseri I, Aldana P, Goldstein J, Josephson G. Juvenile Ossifying Fibroma: Successful Endoscopic Gross Total Resection of a Rare Sinonasal Tumor in an Adolescent Male. Annals of Otol & Rhin. March 26, 2015.
Naseri I. Surgery for Obstructive Sleep Apnea. Northeast Florida Medicine. Vol 64, No 4 2013.
Aldana PR, Naseri I, La Corte E. The naso-axial line: a new method of accurately predicting the inferior limit of the endoscopic endonasal approach to the craniovertebral junction. Neurosurgery. 2012 Dec;71 Suppl Operative:ons308-14.
Duggal P, Naseri I, Sobol SE. The increased risk of community-acquired methicillin-resistant Staphylococcus aureus neck abscesses in young children. Laryngoscope 2011;121:51-5.
Naseri I. Laryngopharyngeal Reflux: Overview and Clinical Implications. Northeast Florida Medicine. 2011;62(1):35-38.
Cohen AL, Naseri I, Pinell X, Sobol SE, Gorwitz R. Treatment of Methicillin-Resistant Staphylococcus aureus Pediatric Head and Neck Infections: Results of a National Survey of Otolaryngologists in the United States. Journal of Otolaryngology-Head & Neck Surgery, Vol 39, 2009:
Naseri I, Jerris RC, Sobol SE. Nationwide trends in pediatric Staphylococcus aureus head and neck infections. Arch Otolaryngol Head Neck Surg 2009;135:14-6.
Naseri I, Wise S, Klein A. A Rare Cause of Dysphonia. Ear Nose Throat J. 2008 Aug;87(8):E09.
Naseri, I., Durden, F., Sobol, SE. Pediatric Airway Consultation Survey in a Tertiary Care Children's Hospital: An Inter-observer Analysis. Ear Nose Throat J. 2009 Dec;88(12):1266-8.
DelGaudio J, Naseri I, Wise JC. Proximal pharyngeal reflux correlates with increasing severity of lingual tonsil hypertrophy. Otolaryngol Head Neck Surg. 2008 Apr;138(4):473-8.
Rogers, GA, Naseri, I, Sobol, SE. Methicillin-Resistant Staphylococcus aureus Orbital Abscess in a Neonate. International Journal of Pediatric Otorhinolaryngology Extra (2007) 2, 99-101.
Berg E., Naseri I., Sobol S.E. The Role of Airway Fluoroscopy in the Evaluation of Children with Stridor. Arch Otolaryngol Head Neck Surg. 2008 Apr;134(4):415-8.
Naseri, I, Saini, R, Welsh, CT. Ganglioglioma. J Applied Radiology. March 2004: Vol 33,3.
JR Alvarado-Bremer, I Naseri, B Ely. Orthodox and Unorthodox Phylogenetic Relationships Among Tunas, Journal of Fish Biology, 1997. 50, 540-554.
Ely B, Stoner DS, Bremer AJ, Dean JM, Addis P, Cau A, Thelen EJ, Jones WJ, Black DE, Smith L, Scott K, Naseri I, Quattro JM. Analyses of nuclear ldhA gene and mtDNA control region sequences of Atlantic northern bluefin tuna populations. Mar Biotechnol (NY). 2002 Dec; 4(6):583-8.
B. Ely, D. S. Stoner, J. M. Dean, J. R. Alvarado Bremer, S. Chow, Sachiko Tsuji, Tomoyuki Ito, Koji Uosaki, P. Addis, A. Cau, E. J. Thelen, W. J. Jones, D. E. Black, L. Smith, K. Scott, I. Naseri and J. M. Quattro. Genetic Analysis of Atlantic Northern Bluefin Tuna Captured in the Northwest Atlantic Ocean and the Mediterranean Sea. Col Vol Sci Pap. ICCAT, 52 (3): 1145-1149 (2001).
Alvarado-Bremer, J. R., I. Naseri, and B. Ely. 1999. A provisional study of Atlantic northern bluefin tuna populations. SCRS/98/78. International Commission for the Conservation of Atlantic Tunas, GFCM/ICCAT. Genoa, Italy. Coll Vol Sci Pap, 49(1); 127-129.
Textbook Chapters
Janjua A, Naseri I, Witterick I, Vescan A. Otolaryngology Head and Neck Surgery Approaches. In: Kassam A, Gardner, PA, ed. Endoscopic Approaches to the Skull Base: Karger AG; 2012:1-14.
Alt JA, Arnaoutakis D, Naseri I. Skull Base Neoplasms. Encyclopedia of Otolaryngology, Head and Neck Surgery. Kountakis SE, editor. Springer. First Ed. For 2012.
Fernandes RP, Petrisor D, Naseri I. Craniofacial Resection. Encyclopedia of Otolaryngology, Head and Neck Surgery. Kountakis SE, editor. Springer. First Ed. For 2012.
Naseri I. Ludwig's Angina. OTO Crisis: A Guide for the On-Call Otolaryngologist. Zuckerman JD, Rogers, G.A., editor First ed: Lulu.com; 2010. p. 16-18.
Naseri I. Tracheostomy Bleeding. OTO Crisis: A Guide for the On-Call Otolaryngologist. Zuckerman JD, Rogers, G.A., editor First ed: Lulu.com; 2010. p. 44-46.
Naseri I, Sobol S. Regional and Intracranial Complications of Otitis Media. Pediatric Otolaryngology, The Requisites in Pediatrics. Wetmore RF (Eds.). Elsevier/Mosby, Page: 105-117, 2007.
Naseri I, DelGaudio JM. Predictors of Failure of Primary Surgery. Revision Sinus Surgery. Kountakis, S, Jacobs, J, Gosepath, J, editor. New York: Springer; 2008. p.19-25.
Dr. Naseri is one of the most caring, extremely professional specialists in this field. Our son ended up having a total of 3 surgeries for a very rare type of cardiovascular tumor in his sinuses, moving laterally to his jaw and all the way back into sphenoid sinuses next to his brain and attached to carotid artery. Had countless number of appointments, consultations and procedures. If it wasn't for him this emotionally difficult and for our son scarry times I don't know how we would be able to get through all this. We can't thank Dr. Naseri enough for everything that he did for our son and us. He is the best in his profession and this field. Thank you, thank You, Thank you!
Went in on Tuesday was in surgery on Friday. Dr Naseri had an opening and fit me in. Very thorough job what a great team he has. Post op visit took time to go over everything. Wish all my Doctors where this good . Thanks again everyone (Great Job).
Dr. Naseri is fantastic. I recently had a severely deviated septum corrected as well work done to my sinuses. The office staff, especially, Andrea, was great in helping to work through scheduling and insurance issues. Dr. Naseri was fantastic and the surgery went better than I anticipated. I would highly recommend Dr. Nasseri to anyone who is needing an ENT.
My daughter and I have been a patient of Dr Naseri's for years. I am so thankful for him. A couple of years ago he did my sinus and sleep apnea surgery and I am so grateful for his guidance and knowledge for the surgery. I am so much better now because I had the surgey. We just love him and his nursing staff. I highly recommend the North Florida Sinus Center.
Dr Naseri and staff were excellent!! Very compassionate and informative. Thanks to all of you
Doctor got me heading in the right direction where others could not and Dana has been fantastic.
Talented and Genius physician who really cares about his patients. Excellent experience.
My wife received careful and professional care taking into consideration her special needs Highly Recommended Dr Naseri and his staff!
Dr. Naseri was amazing. He actually took his time with me and offered a few different options I could take with the pros and cons of each one. The receptionists were very nice, especially when I called because I got lost on my way there and they had the most patience ever. Cheers to you both. Dana was the absolute best and made me feel so comfortable before and after I talked to the doctor. I HIGHLY recommend. And I've been to an ENT that was recommending things that ended up being unnecessary. I appreciate their honesty
Dr. Naseri was great, I felt heard and he took my symptoms seriously. He took his time researching my history and explaining things to me. Also, great office and staff, they were all so kind! Thanks Melanie!