Dr. Iman Naseri's Patient Testimonials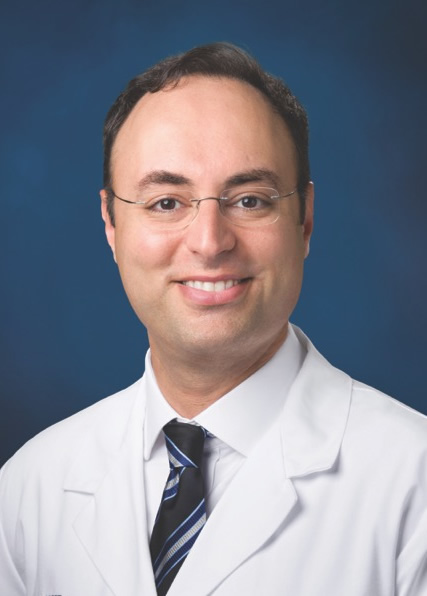 Education
Education
M.D. Medical University of South Carolina, Charleston, SC
B.S. University of South Carolina Honors College, Columbia, SC
Postgraduate Training and Fellowship Appointments
Fellowship, Rhinology/Anterior Skull Base Surgery, University of Toronto School of Medicine, Canada
Residency in Otolaryngology-Head & Neck Surgery, Emory University School of Medicine
Atlanta, GA
Internship in Surgery, Emory University School of Medicine, Department of Surgery
Atlanta, GA
Board Certification
Diplomate, American Board of Otolaryngology
Faculty Appointments
Clinical Adjunct Professor, University of Florida College of Medicine – Jacksonville
Current Hospital Appointments
Baptist Health Jacksonville, FL
UF Health – Shands Hospital, Jacksonville, FL
Wolfson's Children's Hospital, Jacksonville, FL
Memorial Hospital, Jacksonville, FL
Membership in Professional and Scientific Societies
American Academy of Otolaryngology – Head and Neck Surgery, Fellow
American College of Surgeons, Fellow
American Rhinologic Society, Fellow
American Board of Otolaryngology, Diplomate
North American Skull Base Society, Member
American Academy of Otolaryngic Allergy, Associate Member
American Medical Association, Member
Duval County Medical Society, Member
Florida Society of Otolaryngology
Editorial Positions
Member, Editorial Board, Journal of Otology & Rhinology
Reviewer, American Journal of Rhinology and Allergy
Administrative and Academic Service
Originator & Director, University of Florida (UF)-Shands Sinus & Allergy Center, 2009-2014
Originator & Co-director, UF Health-Shands Skull Base Program, 2011-2014
Originator & Co-director, UF Health-Shands Sleep & Snoring Center, 2012-2014
Florida Society of Otolaryngology, State Legislative Representative, 2010-present
Board of Governors, American Academy of Otolaryngology Head & Neck Surgery, 2009-present
Public Relations Representative, Greater Jacksonville ENT Society, 2010-present
Member, Robotics Committee, UF Health-Shands, 2012-2014
Member, Laser Safety Committee, UF Health-Shands, 2009-2014
Community Service
Organized and directed free cancer screening clinic for Jacksonville community during Oral, Head and Neck Cancer Awareness Week (OHANCAW), UF Health-Shands, 2010- 2014
Established the Florida chapter of the Head and Neck Cancer Alliance (HNCA), 2012
Member, Board of Directors, The Head And Neck Cancer Alliance (HNCA), 2010-present
(www.headandneck.org)
Established the Georgia chapter of the Yul Brynner Head & Neck Cancer Foundation (YBF-GA), now known nationally as the Head And Neck Cancer Alliance, (HNCA). Organized and participated in multiple free head and neck cancer screenings clinics at local schools, churches and NASCAR racing events as a part of an outreach program, 2005-2007
Red Cross relief mission trip to Macedonia as part of humanitarian aid to Albania, Macedonia, and Montenegro for the Kosovo refugees, 1998
Awards and Honors
Awards and Honors
Resident Leadership Grant, American Academy of Otolaryngology Head & Neck Surgery, 2007/08
Resident Research Award, Georgia Society of Otolaryngology, 2007
Memorial Sloan Cancer Center summer research scholar program, 2000
Alpha Lambda Delta undergraduate Honors Society, 1993-1997
Research Fellowship from the University of South Carolina Honors College, 1995-1996
Howard Hughes Research scholarship recipient, 1995-1996
Shakespeare Molecular Research scholarship recipient, 1994-1995
Invited Guest Lecturer
17th Annual Primary Care & Cardiovascular Symposium, Ponte Vedra, FL, May 2016
6th Middle Eastern Congress on Rhinology & Facial Plastic Surgery, Tehran, Iran, April, 2016
Office-Based Otolaryngology Course, Ponte Vedra, FL, March 2016
Office-Based Otolaryngology Course, San Juan, Puerto Rico, Feb 2015
North American Skull Base Society Annual Meeting, 2011
Publications
Publications
Arnaoutakis D, Naseri I. Sinonasal Phosphaturic Mesenchymal Tumor: A Rare and Misinterpreted Entity. JNLS Report. Accepted for press. ID 15-Apr-0031-R.
Black K, Naseri I, Aldana P, Goldstein J, Josephson G. Juvenile Ossifying Fibroma: Successful Endoscopic Gross Total Resection of a Rare Sinonasal Tumor in an Adolescent Male. Annals of Otol & Rhin. March 26, 2015.
Naseri I. Surgery for Obstructive Sleep Apnea. Northeast Florida Medicine. Vol 64, No 4 2013.
Aldana PR, Naseri I, La Corte E. The naso-axial line: a new method of accurately predicting the inferior limit of the endoscopic endonasal approach to the craniovertebral junction. Neurosurgery. 2012 Dec;71 Suppl Operative:ons308-14.
Duggal P, Naseri I, Sobol SE. The increased risk of community-acquired methicillin-resistant Staphylococcus aureus neck abscesses in young children. Laryngoscope 2011;121:51-5.
Naseri I. Laryngopharyngeal Reflux: Overview and Clinical Implications. Northeast Florida Medicine. 2011;62(1):35-38.
Cohen AL, Naseri I, Pinell X, Sobol SE, Gorwitz R. Treatment of Methicillin-Resistant Staphylococcus aureus Pediatric Head and Neck Infections: Results of a National Survey of Otolaryngologists in the United States. Journal of Otolaryngology-Head & Neck Surgery, Vol 39, 2009:
Naseri I, Jerris RC, Sobol SE. Nationwide trends in pediatric Staphylococcus aureus head and neck infections. Arch Otolaryngol Head Neck Surg 2009;135:14-6.
Naseri I, Wise S, Klein A. A Rare Cause of Dysphonia. Ear Nose Throat J. 2008 Aug;87(8):E09.
Naseri, I., Durden, F., Sobol, SE. Pediatric Airway Consultation Survey in a Tertiary Care Children's Hospital: An Inter-observer Analysis. Ear Nose Throat J. 2009 Dec;88(12):1266-8.
DelGaudio J, Naseri I, Wise JC. Proximal pharyngeal reflux correlates with increasing severity of lingual tonsil hypertrophy. Otolaryngol Head Neck Surg. 2008 Apr;138(4):473-8.
Rogers, GA, Naseri, I, Sobol, SE. Methicillin-Resistant Staphylococcus aureus Orbital Abscess in a Neonate. International Journal of Pediatric Otorhinolaryngology Extra (2007) 2, 99-101.
Berg E., Naseri I., Sobol S.E. The Role of Airway Fluoroscopy in the Evaluation of Children with Stridor. Arch Otolaryngol Head Neck Surg. 2008 Apr;134(4):415-8.
Naseri, I, Saini, R, Welsh, CT. Ganglioglioma. J Applied Radiology. March 2004: Vol 33,3.
JR Alvarado-Bremer, I Naseri, B Ely. Orthodox and Unorthodox Phylogenetic Relationships Among Tunas, Journal of Fish Biology, 1997. 50, 540-554.
Ely B, Stoner DS, Bremer AJ, Dean JM, Addis P, Cau A, Thelen EJ, Jones WJ, Black DE, Smith L, Scott K, Naseri I, Quattro JM. Analyses of nuclear ldhA gene and mtDNA control region sequences of Atlantic northern bluefin tuna populations. Mar Biotechnol (NY). 2002 Dec; 4(6):583-8.
B. Ely, D. S. Stoner, J. M. Dean, J. R. Alvarado Bremer, S. Chow, Sachiko Tsuji, Tomoyuki Ito, Koji Uosaki, P. Addis, A. Cau, E. J. Thelen, W. J. Jones, D. E. Black, L. Smith, K. Scott, I. Naseri and J. M. Quattro. Genetic Analysis of Atlantic Northern Bluefin Tuna Captured in the Northwest Atlantic Ocean and the Mediterranean Sea. Col Vol Sci Pap. ICCAT, 52 (3): 1145-1149 (2001).
Alvarado-Bremer, J. R., I. Naseri, and B. Ely. 1999. A provisional study of Atlantic northern bluefin tuna populations. SCRS/98/78. International Commission for the Conservation of Atlantic Tunas, GFCM/ICCAT. Genoa, Italy. Coll Vol Sci Pap, 49(1); 127-129.
Textbook Chapters
Janjua A, Naseri I, Witterick I, Vescan A. Otolaryngology Head and Neck Surgery Approaches. In: Kassam A, Gardner, PA, ed. Endoscopic Approaches to the Skull Base: Karger AG; 2012:1-14.
Alt JA, Arnaoutakis D, Naseri I. Skull Base Neoplasms. Encyclopedia of Otolaryngology, Head and Neck Surgery. Kountakis SE, editor. Springer. First Ed. For 2012.
Fernandes RP, Petrisor D, Naseri I. Craniofacial Resection. Encyclopedia of Otolaryngology, Head and Neck Surgery. Kountakis SE, editor. Springer. First Ed. For 2012.
Naseri I. Ludwig's Angina. OTO Crisis: A Guide for the On-Call Otolaryngologist. Zuckerman JD, Rogers, G.A., editor First ed: Lulu.com; 2010. p. 16-18.
Naseri I. Tracheostomy Bleeding. OTO Crisis: A Guide for the On-Call Otolaryngologist. Zuckerman JD, Rogers, G.A., editor First ed: Lulu.com; 2010. p. 44-46.
Naseri I, Sobol S. Regional and Intracranial Complications of Otitis Media. Pediatric Otolaryngology, The Requisites in Pediatrics. Wetmore RF (Eds.). Elsevier/Mosby, Page: 105-117, 2007.
Naseri I, DelGaudio JM. Predictors of Failure of Primary Surgery. Revision Sinus Surgery. Kountakis, S, Jacobs, J, Gosepath, J, editor. New York: Springer; 2008. p.19-25.
I have seen Dr. Nasari twice and both times have been great experiences. He's very confident in his knowledge, direct and to the point with any concerns. I felt like he took time to listen, was very thorough in his checkup and his diagnosis/prescription has made a difference in my day to day activities.
I was recently referred to Dr. Naseri for a specialty procedure. I was extremely impressed with the entire experience, so much so that when my husband and I got back into the car after the first visit we both simultaneously commented on what an extremely pleasant experience the entire visit was, from the front desk staff to the nurse to Dr. Naseri. This experience was so far superior to any other medical visit that either of us have had in recent years. This outstanding level of service actually started before I ever arrived at his office, with the scheduling and communication that came from his Office Manager. All facets of the entire process, from the first contact to the medical procedure that Dr. Naseri performed, were clearly communicated and all of my questions were answered. As I have told multiple people since this visit, if you are in need of a very qualified specialist related to any ENT issues or associated head and neck issues you should definitely contact Dr. Naseri and his team. I am certain that you will be as impressed as I have been, as it's difficult in today's climate to find a quality health care team like this.
I was extremely impressed by Dr. Naseri on our first visit to him. We have been looking for a new ENT as our long-time one retired. We have seen a few others and have accomplished nothing. I don't mind at all having to drive 30 minutes out of town to see someone with his degree of professionalism and knowledge!
Everyone was very friendly. This is the first time of all the ENTs that I've seen over the last few year's this Doctor showed concern and compassion for my issue. I can tell he's not going to stop until he can help me and give me relief! Also, he took his time explaining things to me in a way that I could understand. I highly recommend Dr. Naseri.
I was referred to Dr. Naseri for some throat issues. So far he's the first doctor I had that actually could help me with what was wrong. He listened to my health issues and addressed them by showing me what could be wrong. We are now working through the tests of which I am confident that he will be able to solve my health concerns and help relieve my discomfort or resolve it together. I am looking forward to having great success with Dr. Naseri!!!
Dr. Naseri is a true gem. He patiently listened to me and was extremely knowledgeable and I feel lucky I found him; I traveled several hours and I am so glad I did. His assistant was awesome as well, she was so thorough and helpful. I have rarely had an experience with a physician and staff who were this professional and caring. Highly recommend!
THE BEST SUBSPECIALIST DOC I'VE EVER SEEN "I was referred to Dr. Naseri by my allergist for chronic sinus issues. I have had 4 sinus surgeries by 3 ENT docs in the past 20 years. Still having same issues. I must admit that the wait time to see him is rediculous, about 2 months! But it's worth it. Once you get into the office/clinic area, everything and everyone is nice. Staff are very helpful and his nursing staff are very nice. He makes you feel very comfortable instantly and takes his time with you. You can really tell that he knows what he's doing and he also takes the time to educate his patients. He always has a resident or medical student with him, which can sometimes create redundancy in questions and answers. Anyways, I had my operation with him several months ago and I have never been able to breath better than now. I certainly recommend him to others, especially when it comes to seeking an ENT who super subspecializes in sinus and allergy conditions."
"I am new to Florida and have been suffering with tracheal stenosis since 2001. I looked up otolaryngologist in my area and liked what I read about Dr.Naseri. I made an appointment to see him and we clicked right away. He knew all my symptoms and knew exactly what to do to treat me. I am so glad to say my suffering is almost over. I think highly of Dr.Naseri. He goes above and beyond to help his patients. He really cares and it shows. 5 star all the way. Dr. Naseri and the entire office staff are awesome, from what I have seen and experienced they treat every patient as if they are their only patient. My previous ENT who I had been with for many years and will leave nameless had given up on finding the root cause of my long term chronic cough and told me I would just have to live with it, wrong answer.  I started Googling for someone who doesn't give up and more aggressive in correctly diagnosing my problem accompanied with the best treatment; fortunately I found, who I think is one of the best, if not the best in the region. He was very systematic, rational and determined in his approach to identifying the root cause of my condition. He is excellent at explaining what he is doing and why, very energetic, gifted in his abilities and very intelligent yet he is personable and cares about his patients. Along with Martha, Lori and the rest of his staff I feel like I am getting the best care possible. I am very confident in Dr. Naseri, I only wish I had found him sooner.  Best ENT specialist in the region.  Probably the Top ENT specialist in the entire region."
Dr Naseri was very professional, explained the procedure thoroughly, and performed the nasal surgery in a timely manner. The results were better than I expected, I can finally breathe properly through my nose and all my sinus issues are resolved, the first time in over 65 years! I agree with several of the comments, docs are great, office staff needs a little training and only once have I spoken directly with a person, always forced to leave a message, several of which have still not been returned.
"Dr. Naseri worked alongside Dr. Sauvageau to remove a benign pituitary adenoma from my brain cavity. He was excellent from beginning to end. He visited my hospital room on almost a daily basis. Works extremely hard for all his patients and is very knowledgeable, patient. He is so popular that sometimes there IS quite a wait time to see him."